What I've Learned from Selling Knives.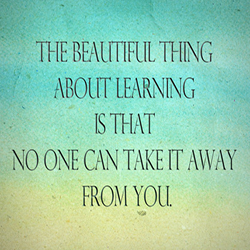 My life changed when I started selling knives in May 2009. I had just finished my first year of university, which meant that my entire savings I had worked for the year and a half prior was gone. Seriously broke I was in need of a job that would allow me greater control of my income and flexible hours to focus on school. Then came along Vector Marketing Canada, Cutco Cutlery and four of the most life changing, unforgettable years of my life, so far.
Little did I know that walking into that interview a broke, unfulfilled 20 year old with little direction in life that I would leave and be on a new path of self-discovery, exploration and genuine happiness. I have been coached along a self-guided tour toward my passions. The cool thing about Vector Canada is that each of us experiences it our own way, we are all given the same tools and yet we all build very different houses. For four years I have been a part of a team (a family) that focuses on setting goals and making them happen all the while helping people pursue their passions and live life to the fullest.
When I began I appreciated the support and opportunities that came along with selling Cutco. The programs worked, the people were supportive and knowledgeable and when I came to training I had no pre judgments or expectations, I had nothing to lose. Fast forward more than $100,000 in sales and what I've learned is that being an entrepreneur requires clarity, passion and focus on big goals. I've learned through first-hand experience that any goal worth achieving has many challenges and obstacles along the way. However what would have once deterred me or made me rethink my commitment has now turned into the fuel of desire that wakes me up every morning and puts excitement into each step I take. I understand that I am the active force making my life all that it can be and my future all that I want and dream of, Vector Canada made that clear for me.
The growth opportunities, business education and wealth building lessons have be incomparable to any of the HR, Marketing or entrepreneurship business classes I took at university. Selling the world's finest knives has taught me how to create and thrive in business. Being a successful competitor in the cutlery world has seamlessly transferred to making successful decisions to benefit my life in every other aspect.
Then there are the people. The friendships I have developed these past four years will be with me regardless of where my life takes me in the future and some I know I will have and cherish forever. What astounds me every time a group of us get together is how remarkable each individual is that I work with. All of my friends in this company are incredibly unique and passionate people who live life to the fullest and never settle for anything less than happiness. I am excited for 'work' conferences and events, simply because of the people I surround myself with while I'm there. I know that the time I am able to spend with them allows me to become the best version of myself.
I know I am learning and growing in every area of my life. Perhaps it is the high level of trust, respect and care that is prevalent in each interaction or perhaps it is incredible records and results I see people set and break that invigorates my imagination and broadens my perspective on what I think is possible.
Who knows if I will sell knives forever, but I can say without a doubt that this experience is something that every single person would benefit from if they tried. Whether they sell Cutco for one summer or run many offices like I have and work with many different teams over years of commitment, simply pushing the boundaries of what a 'normal' job is, shatters any limitations of a 'normal' life. There is nothing wrong with being normal, however I've learned from some of the most successful people in the world that normal is at most uneventful and an extraordinary life and person is born from pushing the boundaries and defying normality.
It's not about being perfect, it's about being authentic and helping others. That's what I've learned and that's what I strive for.